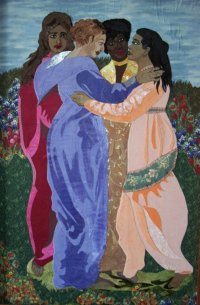 Bewitched 3
Our weekend breaks starts with a journey to our well chosen accommodation where you will be welcomed with a cocktail or glass of delicious wine
The evening will include a leisurely home cooked meal and an introduction to the Witching World from Allison. Depending on the season we can sit around an out door fire or snuggle up cosily inside as we listen to stories from our ancient bardic past; with much replenishment of glasses you will settle into rhythm of the magic world around you.
As your weekend unfolds you will come to know that the power of witchcraft lies within the intent of self. You will be guided as you learn to find the lost wisdom of Sisters gone before.
By visiting ancient sites and following age old tradition you will be involved in divination, spell work, healing and ritual.
By Sunday afternoon you should depart a stronger and wiser woman ready to embrace the world with enthusiasm ready to face the challenge of change with vigour.
Your stay will be from late afternoon on Friday until late afternoon on Sunday and will consist of two nights accommodation, all meals, welcome drinks and wine with dinner, (other drinks can be purchased at cost price), a personal tarot reading, tuition guidance and transfers.
Cost per person £390 minimum group number 5
Available for other groups as well as Hens just enquire
Bewitched Breaks also offers a number of one day workshops:
Healing with Lithics- Crystals healing

Sisterhood- Female solidarity and self help

Croning- Celebrating the acquisition of wisdom and freedom therein.

Spell casting- Learn how to formulate and cast your own spell.

Divination- Learn how to consult the spirit realm for advice using Witch Runes or basic Tarot.
For these workshops there must be a minimum of 4 people when booking. Venues will vary to suit the requirements. Price per person is £80, all requirements and refreshment are included.
Agenda for day workshops;
11 am Arrive- Refreshments and introductions.

12 – 1 Instruction

1 – 2 Working Lunch with discussion

2 – 4 Practical

4- 4.30 Refreshments; Any problems, final questions and Farewell. 5pm.
Bewitched Breaks will begin with this ritual-
Embracing the Way'
This is a simple ritual that will help everyone to set aside fear and anxiety thus allowing a bridge of sisterhood to grow from love and trust.
To embrace the way of the Goddess we all need to offload our zorbic baggage -in short we need to cleanse.
Dressed in loose and comfortable clothes we will physically walk to cast a ritual sacred circle together; at each compass point I will light a quarter candle, from East to North. Then we will sit and I will ask all present to call to mind the problems of life that burden, oppress them. Two bowls will be passed, one of salt, one of water; starting with (myself) High Priestess (watch, then each in turn repeat )-
"Into your care Mother I place all my worldly problems and worries" then quietly list the problems, with each one take a pinch of salt from the bowl and sprinkle it into the water bowl. When finished unburdening the spirit, pass it to the next on the left saying "May I be freed from all fear and anxiety", then looking the person in the eye say "May you be freed from all fear and anxiety". She takes both bowls and repeats these actions, but with her own list of fears.
This continues around the circle until all are cleansed.
This is then swiftly followed by a welcoming of the Goddess and calling Her unto us as matriarch, Mother of Creation, the first woman; we then honor Eve and re-empower women, as each of us drink wine from the chalice again following my example:
Raise the chalice in front and aloft saying, "Earth Mother this is your daughter Allison (own name), I bring to this circle of Sisterhood wisdom "(you will each think of what you bring and when it is your turn speak it out).
Then I will pass the 'cake' and each will take a piece saying " Earth Mother may we never hunger."
This is where it all begins…………will you join us